Testimonials from our customers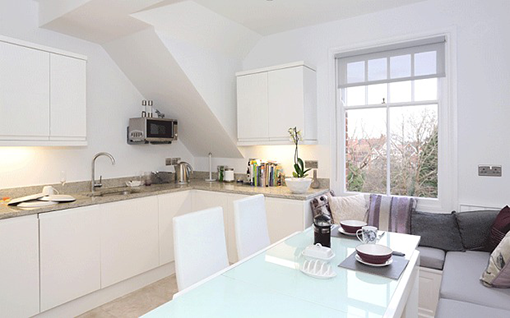 "I am absolutely delighted with the magic that Philip Hudson and his team from Kitchen Tailor have worked on my somewhat tired and dated flat, turning it into a gleaming designer statement, co-ordinated throughout. They did all the big jobs but Philip also sat down with me and sourced exactly the right type of furniture and fittings for each room. He then built and installed it, leaving me with a completely finished property that looks like a showhome.
Philip is such a perfectionist that he even insisted on coming round and hanging all my pictures, and would not let me ruin the newly plastered walls by knocking nails in. He also insisted on changing all the door handles, hooks and latches so that I would be happy with the final result. Not all of the jobs were technically easy, but eventually all the problems were overcome. Philip will worry away at renovation challenges until he finds the best solution, and this is another plus as the client does not always know what might be possible.
Although Kitchen Tailor are experts at fitting and installing kitchens – as the name suggests – they are equally proficient at every other type of interior renovation.
The biggest accolade was when I asked my estate agent to come round and pronounce, and he could not believe how wonderful the flat looked. Now of course, he wants to sell it for me, but I think I will enjoy living in it for a few more years yet."
Photo credits: Telegraph.co.uk
- Ms. Hodgkinson, Oxford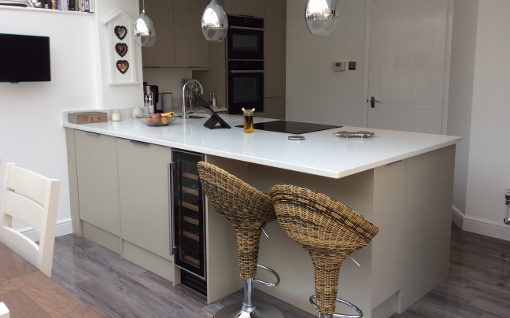 When we decided on a new kitchen we got quotes from many kitchen companies but found Philip to be very competitive and he project managed the Complete job for us. The Quality of the kitchen is very high and Philip's attention to detail when fitting the kitchen is outstanding and nothing was too much trouble for him.
- Mr Cripps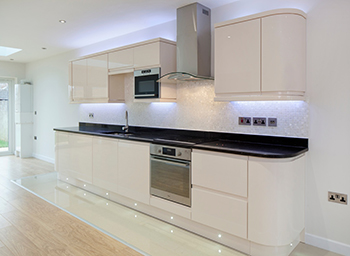 "As a developer and project manager you're always on the hunt for new trade and talent in the hope that these people can pass on their pride and enthusiasm and bring it onto the site and show it in their work. Philip was one of those amazing individuals who bought it by the truck load.
His ability to listen and compliment my ideas as well as organizing his own work and other trade related to his work was exemplary.
It's hard enough for the project manager to look after every detail down to the last nail, but with Philips attention to detail I am left with no disillusion that all future kitchen (or any other) install will be carried out without any stress to me.
Thank you Philip for all your efforts and really looking forward to my next development with you."
- Mr Ali, Director - AmeerA Developments Ltd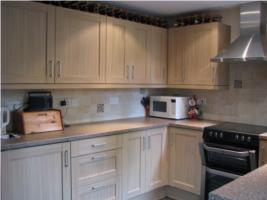 "We had been toying with the idea of a new kitchen but had made no plans..... Phil's input opened our eyes to possibilities we had not considered. [We] drew up a detailed job description with quantities so all variations could be monitored from day one, and there were several, but with a rolling cost plan we both knew where we were."
"Phil gave good value for money and was on time in completing, and the standard of workmanship from him and his team was faultless."
"The great advantage that we found by using Phil was that we had just the one person to deal with as he managed the whole project from start to finish, tying each element into the other."
"After the kitchen was finished Phil called in from time to time to check that we were still happy and that no problems had occurred."
- Mr Swan, Oxford
"Thanks Phil for an excellent kitchen, we are really pleased with the quality of the kitchen."
"Your attention to detail with the fitting was second to none. You are obviously passionate about your work and that was evident from your time spent making sure all the finer details were correct."
- Mr Smith, Witney
Phil took all the hassle out of sorting design at a reasonable price and put in all the relevant trades making having a new Kitchen in my rented property easy.
- Mr Fletcher, Oxford (Landlord)
We recently moved to Bicester from Kent, and moved into one of the Almeera Developments.
What struck us first and foremost was the quality of the workmanship throughout, particularly the kitchen area which although small was meticulously planed and finished to a high standard by someone who obviously loved what they did.
As we needed more storage fitted throughout the bungalow we were introduced to Phillip who was the person who had put that love and care into the job.
Phillip has in the last six weeks given us storage in our shower room, bedroom and entrance hall; they have all been completed with thought, planning and incredible attention to detail.
Anyone who wants a thoroughly professional job done at very reasonable cost should look no further than Phillip.
- Mr & Mrs Wakeling, Bicester